Here are the latest coupons. They're already embedded in the links, so you don't need to actually type them. The full price is in bold.
Buy the "Learn Derivatives. Start Here." full course.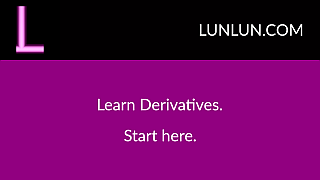 Buy it for $7
Buy it for $5
Buy it for $3
Which price to choose?
Frequently Asked Questions about coupons:

Your question: Which price to choose?
My answer: Creating videos has a cost for me. If you like to support me to create more videos, please buy any of my products. You decide what you want/can afford to pay for any of my courses. You'll get the same product, no matter how much you pay for it, but the higher you pay the more you help me dedicate more resources for creating videos. It's somewhat similar to "pay what you wish" or crowdfunding or a special donation. I say "special" because usually for a donation you don't get anything in exchange. I don't want you to get empty handed, that's why I prefer giving you a coupon if you can't pay the full price.
Your question: What if I want your content, but I can't afford paying for it?
My answer: Most of my content is available on my site or/and on my YouTube channels, free of charge, to read/watch online. But … the courses are more organized, fully downloadable, and contain an ebook, which is not available elsewhere. That ebook is for those who prefer reading instead of watching videos, and it basically contains the whole material from the videos, in PDF format.
Simply put – the content is free, you only pay (if you want) for more organized content, for convenience or to appreciate my work.
Your question: What if I'm a cracker and I can get all your content for free?
My answer: If you're a cracker, chances are high you'll never buy anything from me anyway. I prefer to lose some sales, due to crackers, than to complicate things, by putting extra protection measures for honest people.
Your question: What exactly means "downloadable" on this page?
My answer: It means that you can download the full course, to read/watch it on your computer. Why would you do that?
1. You buy access to a course for 1 year. If you download it, you have it forever. The content is not protected in any way, once you've downloaded it.
2. You become independent of any site. So, if my site or Zenler goes offline/shutsdown forever, you're covered.
For you convenience, I offer you 2 methods of downloading – please use the one that best suits you:
– you can download the whole course, all files in one zip archive (the size of that zip file is mentioned in the title of that episode) (if you have a fast Internet connection)
– you can download each video individually (if you have a slow Internet connection)
Your question: Why the content is organized in episodes and not in lectures or lessons?
My answer:
The word "lessons" might suggests learning. For some people, learning reminds them of a school.
The word "lecture" might suggests something long and complicated. For some people, learning reminds them of an academic presentation, with unnecessary complicated words.
The word "episodes" suggests "watching and trying to understand by yourself how things works". The videos from my courses are exactly like this – there is a certain amount of pleasant discovery in each of them.