Factor the binomials (10 problems with solutions) [Confident Edition]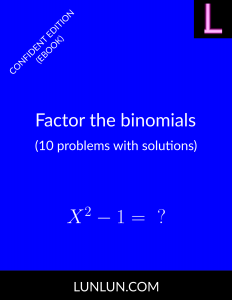 You can read the ebook online, free of charge:
Table of contents
Problem 1
Problem 2
What you'll get more when you'll buy the ebook compared to reading online
The ebook is fully downloadable (you can save it on any device, including your PC), it's not encrypted (you can read it with a regular PDF reader) and it has 1 problem per page (to be easy to read).
Subcribe now to LUNLUN.com newsletter and you will get the cheatsheet "Top 10 Trigonometry Formulas" as a gift.
It is free to subscribe.
You may unsubscribe at any time.
The privacy policy is here
.